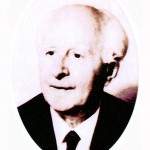 Motaş Constantin (1891-1980) – biologist, university professor, systematician and taxonomist of international prestige, founder of Freatobiology
He attended primary and secondary school at Mihail Kogălniceanu College in his home town, high school at The National College of Iaşi, graduating in 1911. After finishing high school, he attended the courses of the Faculty of Sciences, Natural Sciences Department, Alexandru Ioan Cuza University of Iaşi, graduating in 1915. The topic of his Bachelor's thesis – "The Concept of Progress in Zoology" foreshadowed the evolutionist professor that he would become. After graduation, C. Motas continued to work as a teaching assistant at the Department of Zoology, Faculty of Sciences. During World War I he was sent to the battle field and he returned to his teaching career after the end of the conflict. He was granted a Vasile Adamachi scholarship in France, where he attended the classes of The Hydrobiological and Pisciculture Institute of Grenoble, graduating in 1926. Simultaneously, having Professor Louis Leger as a supervisor, he enrolled in doctoral studies on hydracarians, becoming Doctor of Biological Sciences at the University of Grenoble (1928). The title of his doctoral thesis is "Contributions a la connaissance des Hydracariens francais particulierement du Sud-Est de la France". He returned home and in 1937 he became professor at the Faculty of Sciences of the University of Iaşi, where he held various teaching positions until 1940. From 1940 to 1957 he was a professor at the Faculty of Science of the University of Bucharest. He held various executive positions: Director of the Natural Sciences Museum of Iasi (1937-1940), Director of the Agigea Marine Biological Station (Constanţa) (1937-1940); Director of Zoological Station in Sinaia (1940-1957), Director of the Grigore Antipa Museum of Natural History  Bucharest (1944), Vice- Rector of the University of Bucharest (1944-1945). He was unjustly sentenced to prison and, after his release in 1956, he was appointed Director of Emil Racoviţă Institute of Speology in Bucharest.
In 1948 he was elected member of the Romanian Academy. At the same time he was a member of many national and international scientific societies in the fields of Hydrobiology, Limnology, Freatobiology, Speology, Ecology, Museology, Nature Protection.
Founder of Freatobiology Science and author of over 530 scientific papers, Constantin Motas, one of the personalities of Romanian Biology, brought many original contributions to the enrichment of national and universal scientific heritage, especially in the field of hydracarians. He passed away on 18th January 1980, in Bucharest.